Anchor Text Types And Its Importance In SEO
Links are one of the important ranking algorithms on search engines. You may not be aware that anchor text also plays a crucial role in SEO. It is capable to boost your ranking and user experience. There are different anchor text types and their uses. 
In general anchor text is a link label or a visible content part. If you click the content part hyperlinked, you are directed to another relevant online source. Anchor is a single word or a phrase. They play the role of keywords and reveal the referred links' detail. The anchor text is underlined in blue as it is the standard. Search engines use the keyword in anchor text to identify what the web page is about. 
There are numerous kinds of anchor text found on the internet but it is a blend of helpful and spammy. Here are some most useful anchor text types specified for the SEO of your website.
Branded anchor text – It includes brand name and keyword.
Partial word or phrase match – The anchor text includes keywords for a specific webpage without localization.
Random anchor text – Generic or unspecific phrases without target keywords.
Exact match link anchor text – It includes core and money keywords with localization factor.
Related anchor text – Variation of target keywords is used just like partial or similar match keywords.
Generic anchor text – Any text recognizing the keyword is not used. It can look spammy but is potent as straightforward CTAs are used. 
Naked link anchor text – It is copied and pasted from browser bait yet is clickable. Someone uses this to add reference at the end of their content including your link as a source. 
When is anchor text dangerous?
Google would reward the sites if their backlink anchor text match the keywords they tried to rank for. This gave a rise in anchor text stuffing activities. Google perceived this as a manipulative tactic and started to penalize websites with multiple suspicious links.
Two categories of anchor text are said to be potentially dangerous.
Money anchors
When money anchors are used it is dangerous. The links used in the anchor text match the website keywords exactly. It is tried to rank top in organic search. The anchor text will include commercial nature words like 'buy', 'quote', 'shop', 'pay', 'inexpensive', 'discount', 'deal', and more are called money words. For example, 'furniture on sale', 'holiday discount', 'get auto insurance quote', etc. 
Compound anchors
Compound anchors are also potentially risky. The link makes use of a brand name with a word or phrase. You can even call compound anchors as brand anchors because it contains a company or brand name. Google sees such backlinks including a brand name along with a target keyword suspiciously.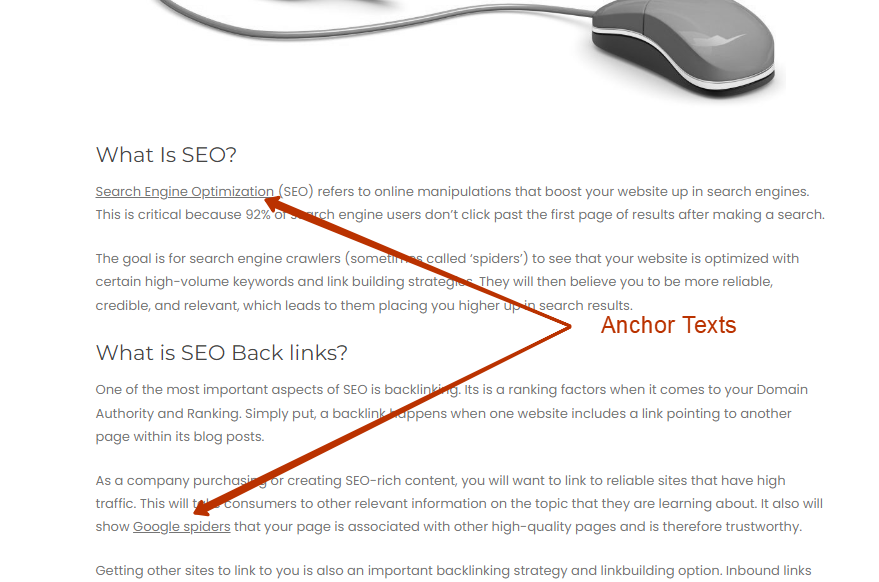 Things to know about anchor text and backlinks
Link building using anchor text can be tricky. Google adores exact matches, so apply the internal linking strategy. Rather than using 'view more' and 'click here' phrases, Google refers to closely related or exact match anchor text. 
An anchor text audit is a must because if you find that multiple sites are directed toward your how-to guidelines with a precise anchor then it is necessary to replace it. 
Anchors must not be overlooked while link-building strategy but considered seriously!